It's 2021 and online marketing (especially through SEO and social media) is essential to getting clients.
The goal of these digital marketing efforts is to get people to check out your online portfolio. In order to do that; yes, you have to bring people to your portfolio, but you also have to have a polished, compelling portfolio for people to view once they make it to your website!
It's okay if this takes time to build and put together because it's really an ongoing process of refinement. As you get started, here are some things to keep in mind…
Before we get started, grab your free copy of my Business Blueprint Guide, which will take you through all the steps you need to get your food photography business up and running!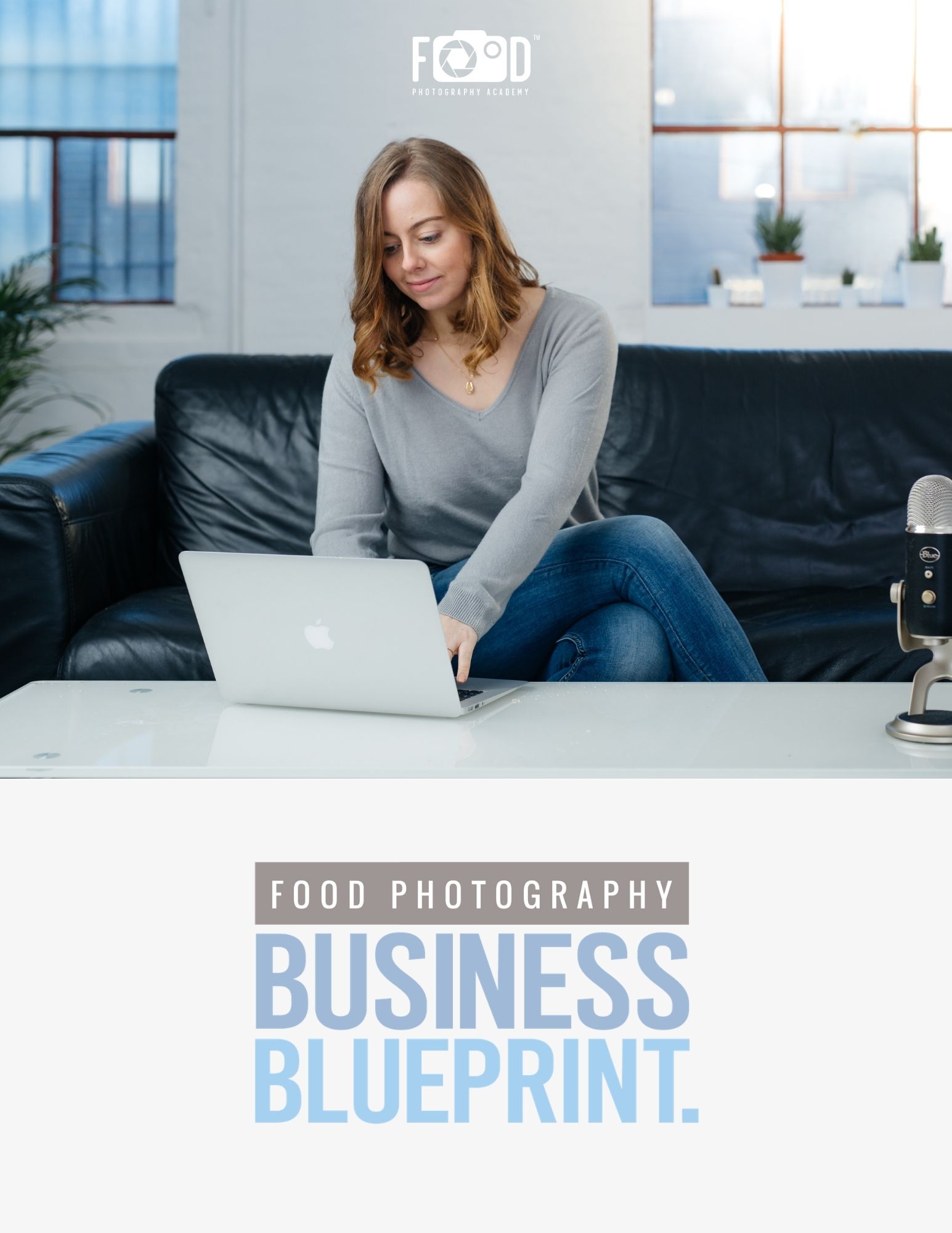 Free Food Photography Business Blueprint
Free Food Photography Business Blueprint
Before getting clients, you need to know who your clients are
A key to getting clients is to build your portfolio based on the kinds of images your ideal clients want to see. However, it is very hard to build a portfolio that is attractive to your ideal client if you don't know who that is. So, before getting clients, it is important to take some time to figure out exactly who your clients are.
There are several kinds of clients in the food photography world and each type of client has its own niche/type of photography that they want. Here are some different subcategories with the food photography realm:
Editorial – magazine
Commercial
Advertising
Cookbooks/Publishing
Social media
Before even starting to build out your portfolio, ask yourself:
What's my niche? (What am I good at?)
Which of these food photography categories appeals to me the most?
Am I currently getting clients that match the niche I want to be in?
Who are my dream clients?
What kinds of photos do they want to see?
Ready to start your successful food photography business? Grab my free Business Blueprint guide to get started today!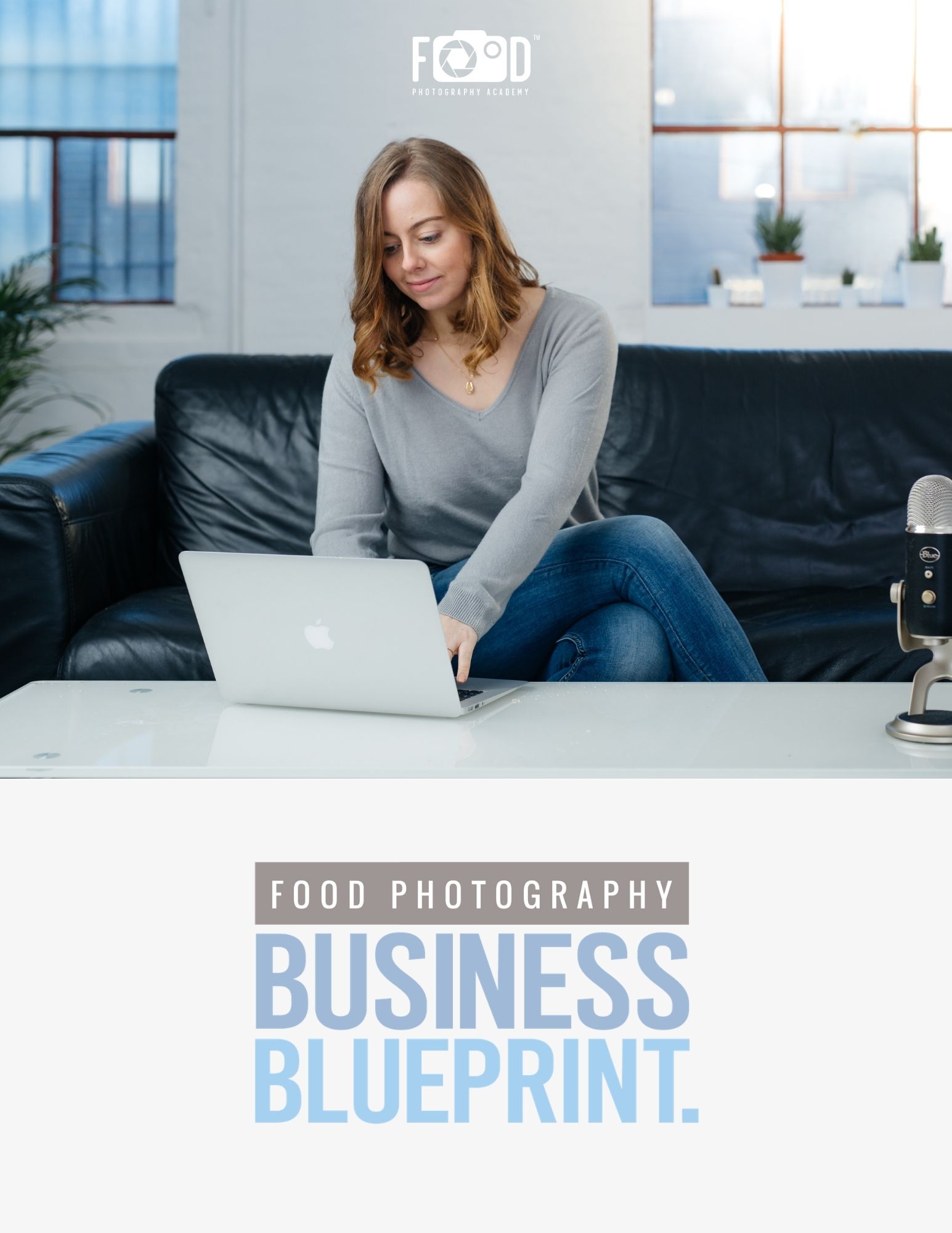 Free Food Photography Business Blueprint
Free Food Photography Business Blueprint
When building your portfolio, here's what to consider…
Once you know which niche you fit in and what kind of work your ideal clients want to see, you can start putting together an online portfolio that will aid you in getting clients. Here are some things to keep in mind as you do that…
#1 – Choose a simple website design
A key to getting clients is to keep your portfolio website design simple. It should be professional, clean, and minimalistic; for example, white space always brings a very neutral, polished look. This keeps the main thing the main thing: your photos!
You can always still incorporate some personality into your portfolio website, but your goal is to ensure your photography is the star of the show (versus a loud and distracting website design).
Tip: Sites like Squarespace, Zenfolio, and Photoshelter are great, beginner-friendly sites to build your website on. They have lots of sleek, professional portfolio templates to choose from.
#2 – Formatting options
Consider having different galleries for different themes. For example, you can organize your photos into different galleries based on categories such as desserts, savoury foods, breakfasts, or side dishes. There are tons of options!
Also, keep in mind how you want to set up your food photography narrative: let your photos tell a story, even in your portfolio!
Ultimately, choose a format that plays to your strengths as a photographer. Just like you don't want your website design to take the focus away from your photography, you should also try to use a format that works to your advantage. The goal is to always highlight what makes your work unique and amazing!
#3 – Choose your photos
When narrowing down the actual photos that you want to include in your portfolio, here's what to keep in mind.
First things first: how many photos should you include? Ideally, your portfolio will have 30-50 images that really encapsulate your style and brand.
Remember: What are your strengths? What makes your food photography unique? Include photos that showcase those things!
You may have food photos that are excellent but don't match your particular brand (or what your ideal client wants). Since your focus is on getting clients, these kinds of photos probably don't belong in your portfolio.
However, as long as you stay on brand, variety is great! Actually, it's especially helpful in getting clients because it illustrates your diverse skill set.
Here's a list of different kinds of photos to consider including:
Light and airy lighting
Close up macro shots
Portraits
Different angles
Photo series that tell a story
Larger food scenes
Action shots (pouring, splashes, etc.)
Varied color schemes (brown foods, bright summer fruits, etc.)
Different meals (ex: both breakfast and lunch options)
As you think through this step, you may realize you need to expand what kind(s) of photos you take. That's totally fine! You can continue to build and revise your portfolio over time, and add and replace photos as needed.
#4 – Show your experience
Finally, keep in mind that showing proof that you have experience working in an industry can go a long way in getting clients! People want to know you can and will deliver. They want to know someone is trustworthy and showing that you have published work in the food photography industry definitely helps build your credibility. So, if you have published your food photos before, be sure to include this work in your portfolio.
Other important pages to include on your food photography portfolio website
Don't forget to write up a compelling, intriguing landing page that captures the essence of your photography and hooks people into looking at your site even more! Most visitors to your website won't have a long attention span, so your homepage should be easy to navigate and make them want to learn more about your work.
Another essential page for your website is an About Me and Contact Page. You've gotten visitors to click to your site, they are loving what they see, so make sure it's easy to get to know you and contact you!
It may seem overly simple, but a large part in getting clients is just having a website that is informative and easy to use!
Bonus: Printed portfolio
Here's one last thing you may want to have on hand: a print version of your portfolio.
A printed portfolio is a great thing to have for initial in-person meetings, especially if you're hoping to do advertising work. This is such a helpful item to have on hand when you're working on getting clients via in-person meetings and presentations.
I recommend having a larger version of your printed portfolio for when your clients visit you, and a smaller one to take on-the-go when you're the one traveling to a client meeting.
Tip: Organize your printed portfolio by different types of photography work (i.e., a section for product shots and then a section for editorial work).
It's time to work toward getting clients by building your portfolio!
Now it's time to dive in and start building your portfolio! Your dream clients are out there, and taking this step is getting you closer to finding them!
Don't forget to grab your free Food Photography Business Blueprint guide, and start developing your business today!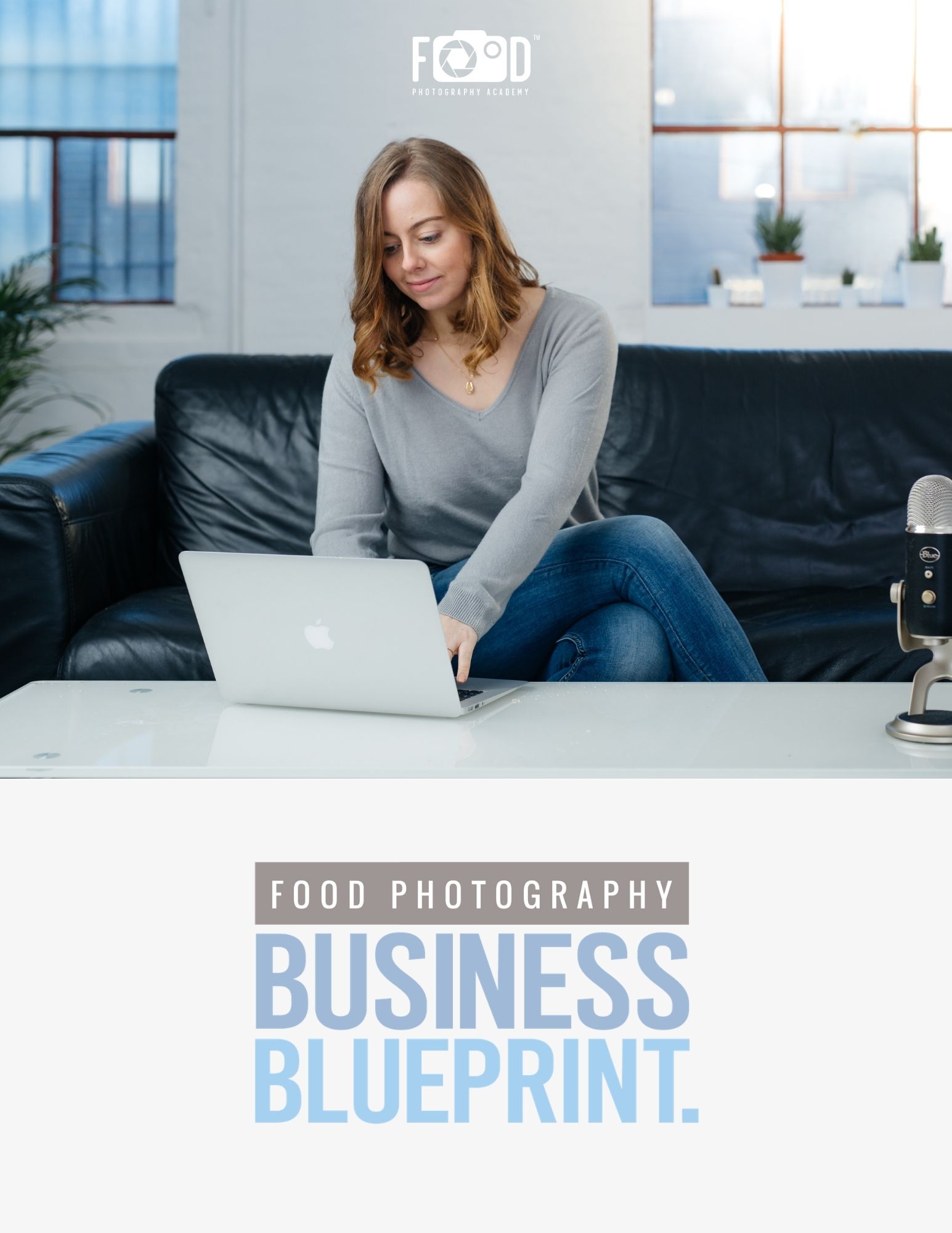 Free Food Photography Business Blueprint
Free Food Photography Business Blueprint