If you've spent any amount of time shooting food photography, sooner or later you'll likely have had to face the challenge of photographing the dreaded brown food. Often dull and unattractive, a brown dish can really test the skills of even the most experienced food photographer. What may taste absolutely sublime, and look perfectly appealing when served, can often take on a rather less alluring aspect once photographed.
It needn't be like this though. And in this post I run through my 5 favourite tricks for turning brown food from a dreary-looking disaster to a moreish delicacy in no time.
Brown and beige are often associated with healthy eating (think wholegrains, raw palm sugar, and other unprocessed foods). And if you've ever checked out eco-fashion labels on Instagram, you'll probably have noticed that they tend to go for a subdued palette of pale-biscuit and light ecru: again, because these tones suggest a more naturally-harmonious and unadulterated product.
There's a considerable difference, though, between shades of toasted wheat and caramel, and the altogether "earthier" hues of many baked goods and certain curries, soups, and stews. How do you add palate-appeal to dun-coloured cakes and cookies? How can you avoid giving Hungarian Goulash all the charm of well… a pile of brown?
Why, I'm so glad you asked! Here's what I do.
Capture Texture
Everyone loves cookies. But let's be honest; plain ones don't always make for the most exciting of photography subjects. The secret to shooting simple brown food such as this – is to concentrate on texture.
First off, you can simply try getting more interesting texture into the dish itself right from the outset. But beyond this, emphasizing texture is all about clever use of lighting.
For the cookies above, I played around with the angle and hardness of the light, positioning it slightly lower than I normally would, so as to pull out as much of the texture as possible. This helps to break up the otherwise monochrome cookies and gives them a nice crunchy and crumbly look. On the close up image I used my macro lens to really capture the detail of the cracks and sugar crystals up close.
Related: Bring Your Food Photography To Life With These Creative Composition Techniques
Layer
Another really good way of adding interest to brown foods is to create a feeling of greater depth by layering. Just because interest is lacking in one area of an image (in this case colour) doesn't mean that all the other elements need to be one-dimensional too. When faced with any monochrome subject, it can really help to add a feeling of increased depth, with different elements sitting on different planes within the shot.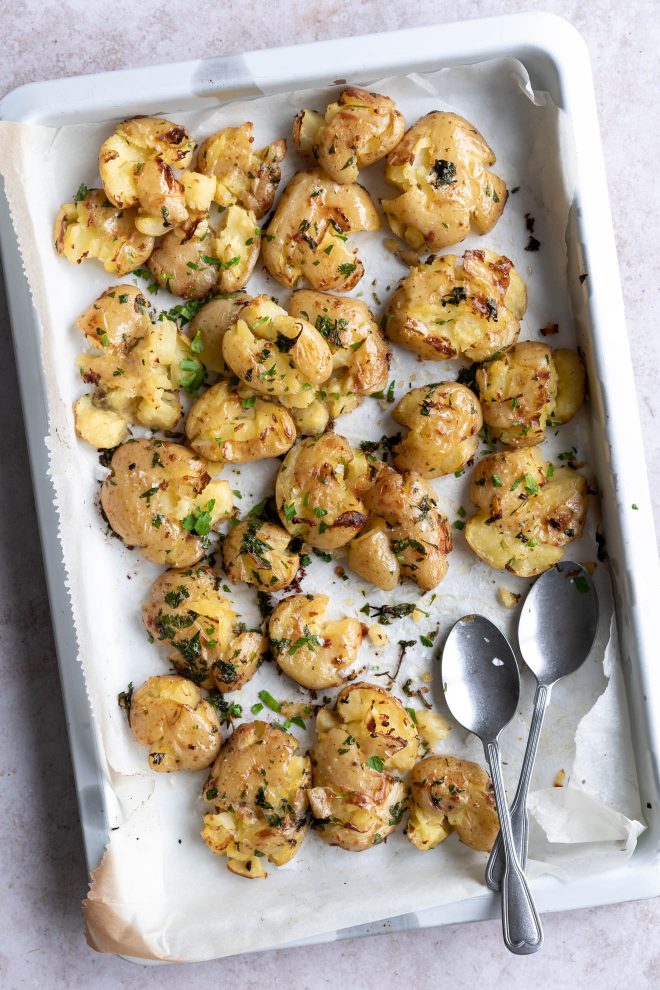 Even though these roast potatoes were effectively shot on just one plane, I added a little brush of oil to them so that they'd pick up more highlights from the lights, emphasizing their three-dimensionality. I also sprinkled on some fresh herbs and sea salt to add extra interest in terms of color and texture, and better positioned the potatoes so as to create a natural looking repeat pattern.
Go Specular (or go home)
Photographing really dark brown items can present similar challenges to photographing black objects: a total lack of detail that no amount of increased exposure or more powerful lighting will change. Just as when photographing black, the solution here is to create specular highlights – i.e. direct reflections of your light source – on the food itself.
Related: Nailing Artificial Light in Food Photography
In the example picture above, the strong highlights you can see in the furrows of the chocolate ganache are reflections of my softbox.
If it wasn't for these, the image would be totally flat and the icing would lack all texture and detail. Specular highlights are a great way of adding life to any boring but reflective subjects; brown ones included.
Change Your Perspective
If you're struggling to make a brown dish look good, you might simply be looking at it from the wrong angle. Turn the dish around, shoot it from above; even from below. If it's a cake, bread, or other item that can be cut open, what does it look like on the inside? Maybe revealing the interior will add that extra degree of interest that makes the shot.
The money shot of this cake came when I cut into it, revealing all that beautiful texture inside.
Be Complementary
Small children have favourite colours, favourite numbers, favourite Peppa Pig characters. But people who understand colour know that no single colour is truly beautiful on its own, rather it's how colours are combined that makes them interesting.
Brown can look great with other browns, or with lighter shades within the same family; such as pale yellow or beige. Brown often looks beautiful when combined with just black, white, and shades of grey.
But if you know your way around a colour wheel, you'll also know that the complementary colours for brown are in the bluish region (exactly which kind of blue will depend on the precise shade of brown you're working with). For example, brown can look truly stunning when combined with deep indigo or more cyan-heavy shades of blue such as turquoise.
A coloured serving dish or backdrop, a side dish or garnish, even a light sprinkling of fresh herbs; this can be all it takes to transform brown food from an unappetizing blah to a tempting delicacy.
In need of inspiration? Try using an online colour palette tool such as Adobe's Kuler to see what other colours would work with your brown dish.
Embrace Monochrome
What happens when the dish you're shooting basically has no colour? Well… embrace the monochrome!
Now the shot becomes all about light, texture, and form. This way you get to ignore what doesn't work, and concentrate solely on the dish's good points – like it's texture!
In this crinkle cookies, the brown is baaaarely there due to the darkness of the cocoa, so instead, I wanted to focus on the stark contrast of the black and white, picking up all the craters and texture from the icing sugar.
Shooting on a dark background allowed the food to stand out and not distract from the beautiful white sugar powder.
Final Thoughts
Although photographing brown foods definitely presents a few unusual challenges, they are not necessarily the insurmountable obstacles we're often told they are. The evidence lies in the fact that brown food can, and does, look amazing when photographed well.
By following the above tips, hopefully your next brown food shoot will come out looking all dark, rich, and sophisticated, and less like something you scraped off the bottom of your shoe. Bon appétit!