Drink photography is one of the most fun and rewarding kinds of food photography out there. It's a chance to play around with interesting props, have fun with colour and explore composition techniques.
However, photographing drinks comes with a few challenges, so I've put together my seven top tips, to help make it a little bit easier, and get you creating magazine-style drink photos, in no time!
1. Use complementary colours to make your photos pop
Drinks themselves can be fairly one-dimensional beings to shoot, so implementing some colour theory can go a long way in helping your drink photography pop.
Using complementary colours (colours that fall opposite each other on the colour wheel) is a great way to add interest and vibrance to your photos. So whatever the main colour of your drink is, try incorporating a complementary colour in your garnishes and/or props.
Want more free food styling tips? Download my free guide for food photographers!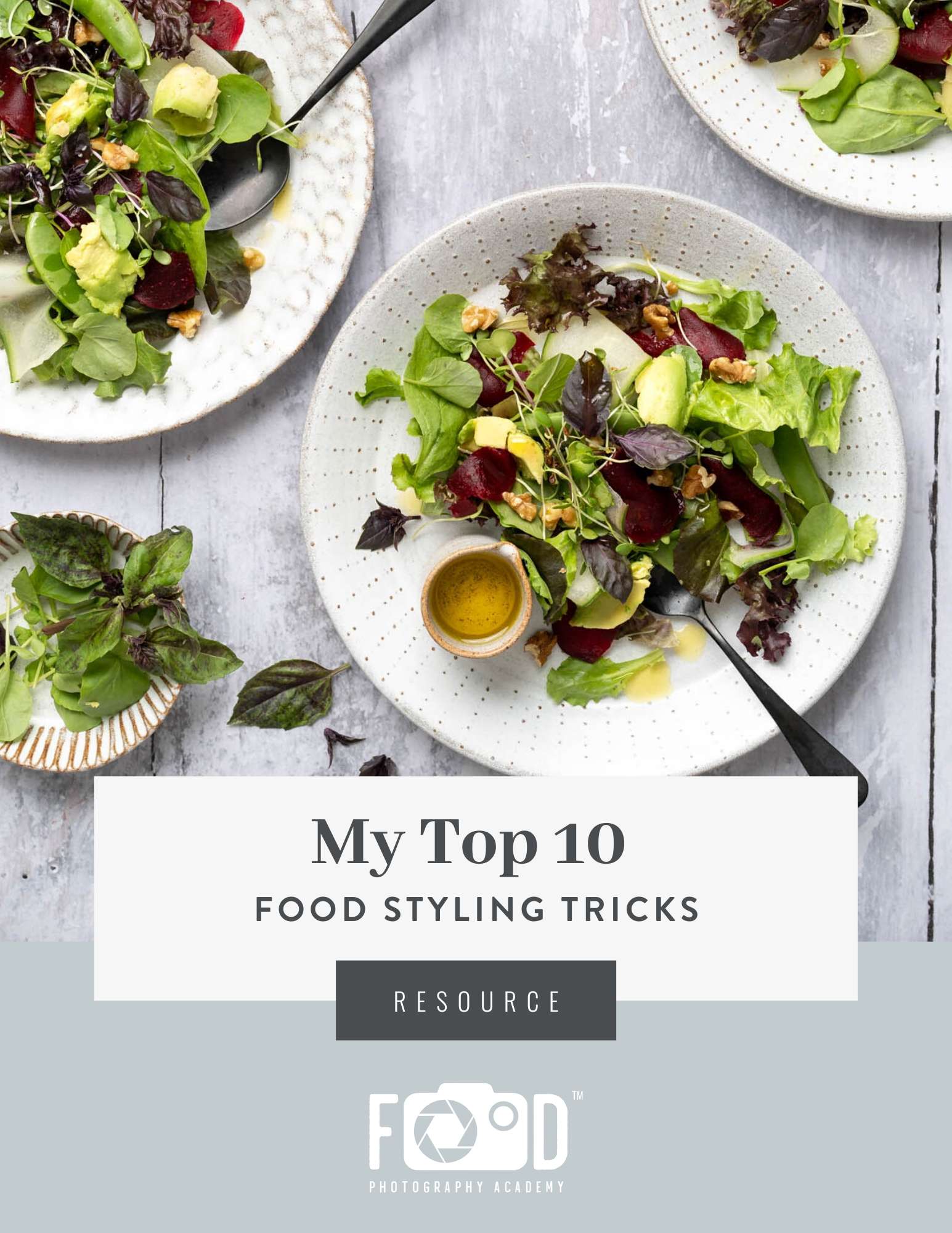 Get my Top 10 Food Styling Tips now!
Get my top 10 Food Styling Tips!
2. Use the rule of odds to compose your drinks photos
The rule of odds states that when you're including a group of subjects in your photo, an odd number, rather than an even number will produce a more interesting, visually pleasing composition.
Drink photography is the perfect scene to put this into practice. Try adding 3 or 5 main glasses into your composition, working with diagonals and triangles in your composition.
By having an odd number of subjects in your photo, you can more easily highlight one as the main subject, by placing it in a powerful place in your composition and using a lower aperture to really help it stand out.
3. Try backlighting your subject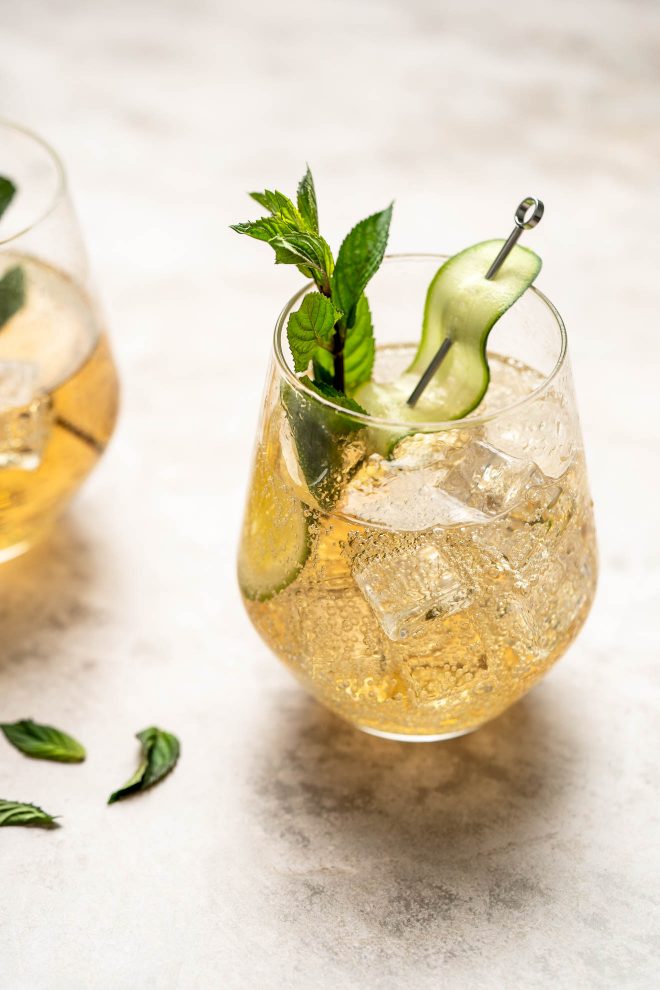 When shooting drinks, lighting is one of the most fun, but also the most tricky areas to perfect. We all want to avoid those dreaded reflections and bright spots, where the light is just bouncing right off the side of the glass and back into the lens.
A good way to counteract this is to backlight your drinks photos. In this example, the light source is directly behind and slightly above the drinks, and I've used a reflector to gently illuminate the front of the glasses.
Even when side lighting drinks, try and position your light slightly towards the back to avoid reflections.
Related: My easy artificial light setup for food photography (video)
4. Experiment with Hard Light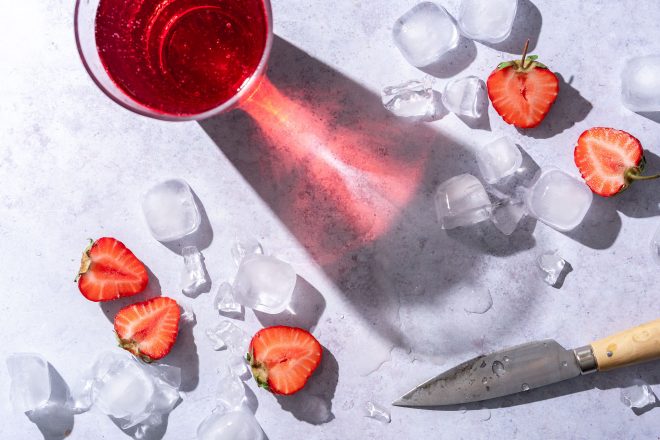 When talking about food photography, most of the time we are bombarded with the message that "soft light is better"! We're told to create soft shadows, diffuse the light to create gentle curves and beautifully illuminated scenes.
But photography isn't the place for boundaries, rules and techniques that can't be broken. And sometimes, hard light can be STUNNING! I have found drink photography the perfect place to take some photos using pure, undiffused light, to capture the textures on the glasses, creating almost a prism effect.
For this photo, I positioned my light quite high above my subjects and angled it diagonally. The further away your light is from your glasses, the longer your shadows will be, so you can play around with moving your light to get the effect you want.
5. Use a water and glycerin mix to create a frosted glass effect
Need that frosted, ice-cold, crisp "just out of the fridge" looks for your drink? I hear ya'!
But let's be real, a food photography set is not the ideal place to keep things cold and crisp, and maintaining the perfect condensation on the side of a glass is pretty much impossible, especially when you have artificial lights in the mix!
Well, there's a simple fix for this, and it comes in the form of a mix of water and glycerin. Simply fill a mister spray bottle with 50% water and 50% glycerin, mixing well, then spray on your room temperature glass – hurrah! You'll be left with a perfect condensation effect that won't fade or drip away, no matter how long your glass is out for.
Want more food styling tips? Grab your free guide for food photographers below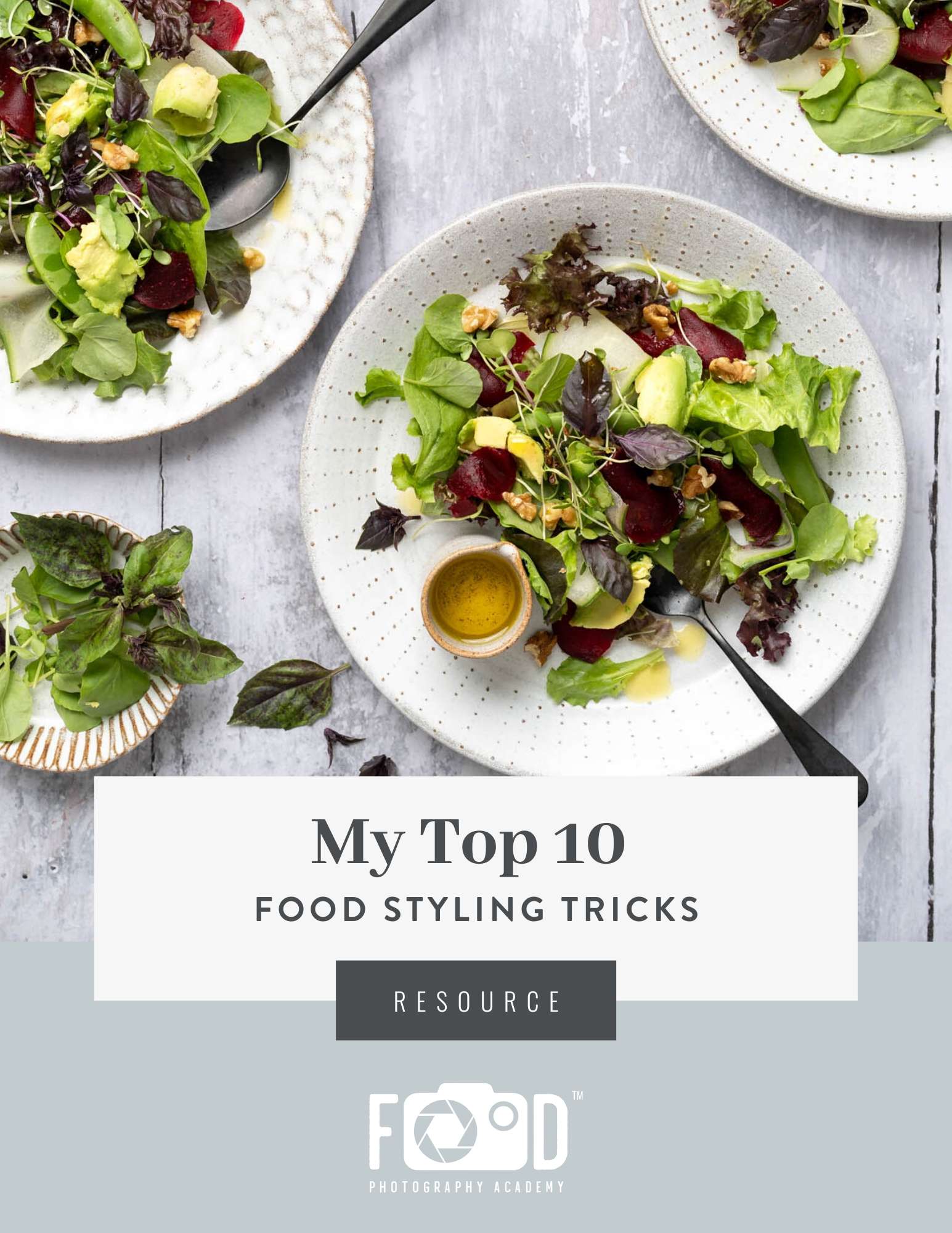 Get my Top 10 Food Styling Tips now!
Get my top 10 Food Styling Tips!
I also use this mixture on fruit and vegetables when I photograph them for that same fresh look. It's easily washed off once you're done so you can still eat those blueberries!
6. Use fake ice cubes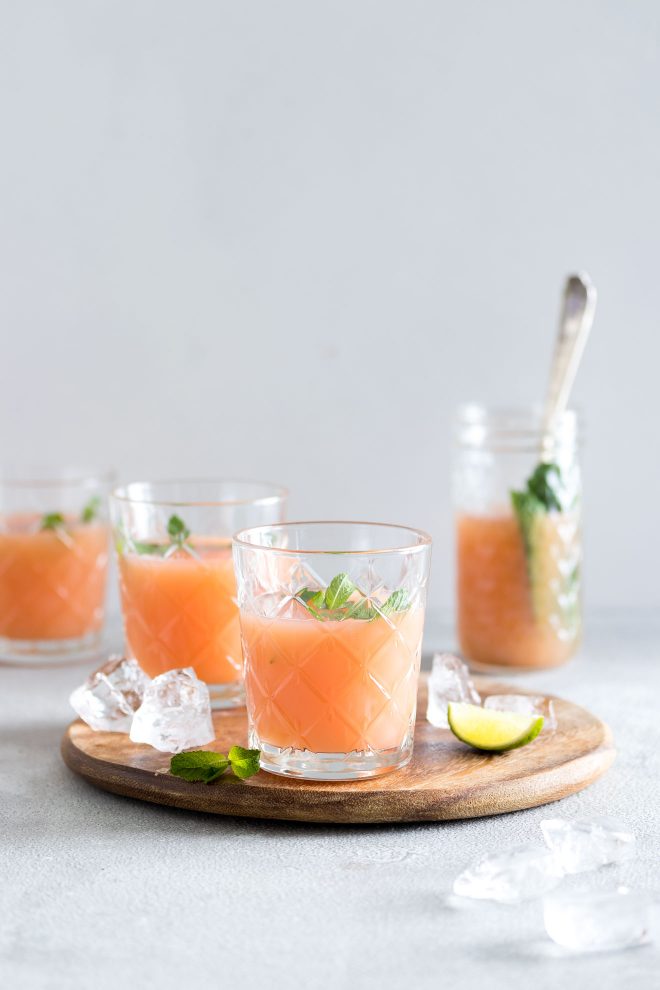 Ice is an essential element for a lot of drinks photography, but a very perishable ingredient. In a hot styling room, you probably have a few minutes with an ice cube before it disappears before your eyes, denying you the opportunity to get that perfect, ice-filled shot.
A prop that comes in super handy is a bag of fake ice cubes. They are very realistic looking and will serve you well through your drink photography shoots! When you want to create the look of an ice cube on a tray that's melting, simply put your fake ice cube where you want it and drizzle a little water over it to look realistic.
For a budget-friendly option, check out these acrylic ice cubes (affiliate link)
For a more upmarket, professional look, Trengrove Ice is the best you can get
7. Get creative with your Garnishes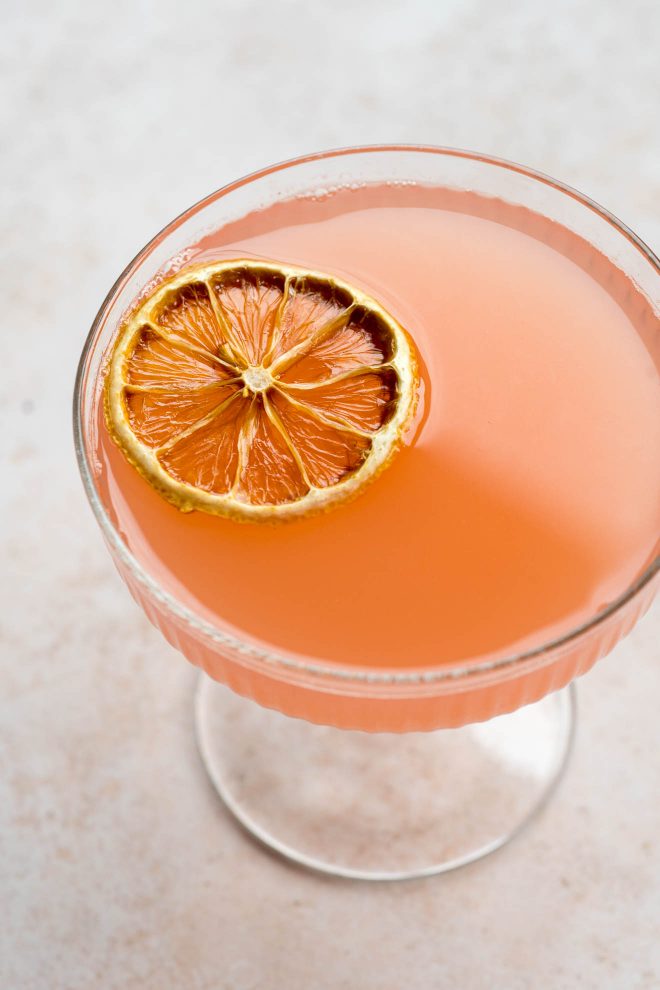 Garnishes are a fun way to add life and colour to your drink photography. As I mentioned above, using complementary colours in your garnishes is a powerful way to add a pop of colour and interest to your drinks. In this grapefruit cocktail, I dehydrated some lemon slices in the oven to create an interesting texture.
But aside from colour, things like adding a salt or sugar rim to your glasses will add another layer of interest and detail to your composition, and interesting photos are born out of the thoughtful, interesting composition.
Don't forget to download my free "10 food styling tips" PDF, to help take your food styling to the next level!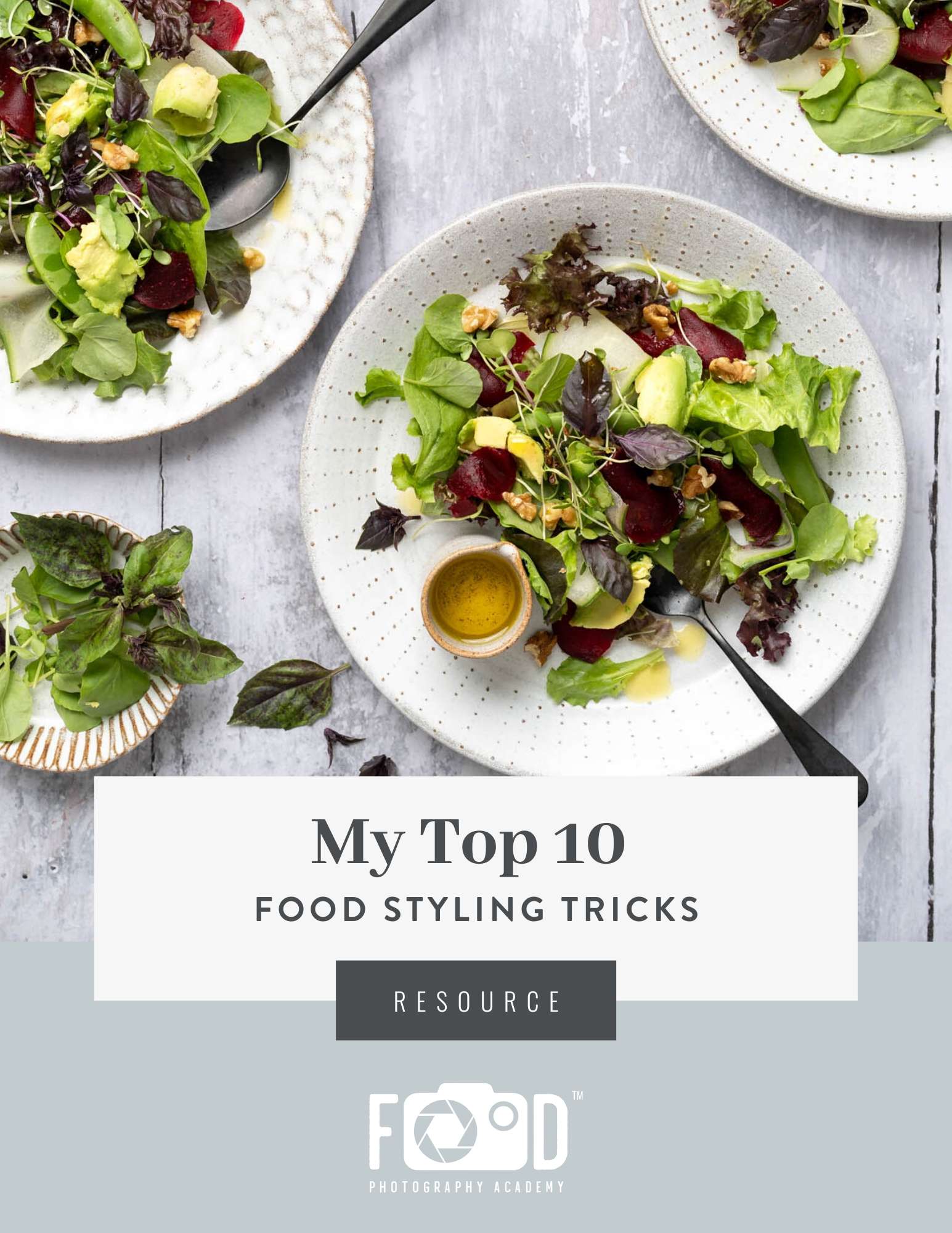 Get my Top 10 Food Styling Tips now!
Get my top 10 Food Styling Tips!
Drink photography is a skill in itself that many food photographers specialise in, so don't be hard on yourself if it takes you time to figure out a style you like.
Why not take the opportunity to practice your cocktail making skills (and enjoy the results?) Here's one of my favourite drink recipe sites.