When you're planning a food photoshoot, the camera angles you shoot with are just as important as everything else in your scene, so knowing how to choose the right angle for the subject can help you create a more powerful image.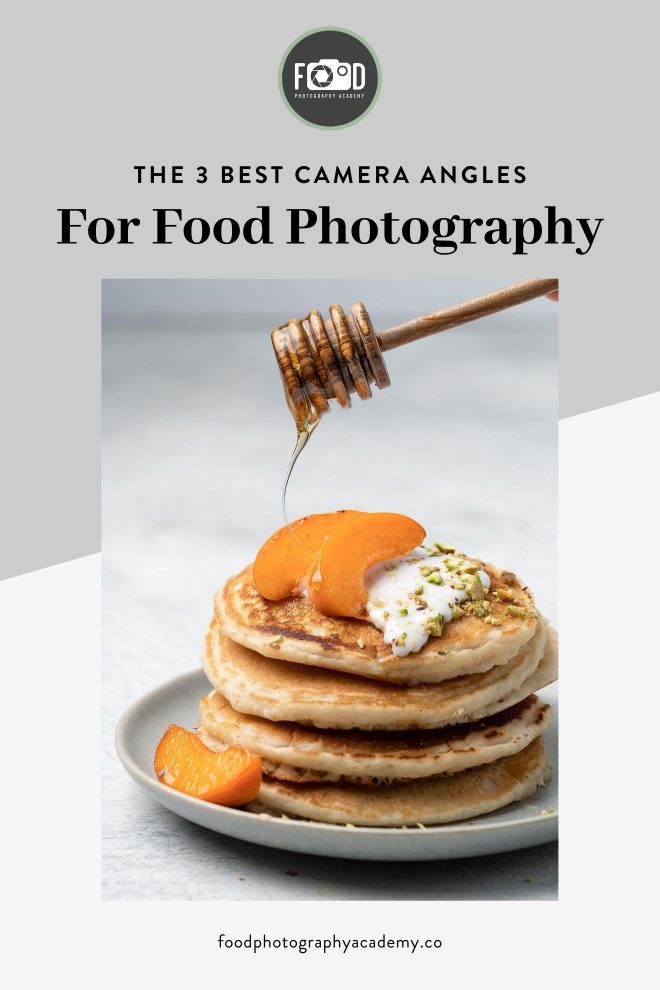 If you want to stop guessing which camera angles are best for your food photo and start making more informed composition decisions, then this post is for you.
Choosing the "right camera angles" for an image is subjective, but there's really more science behind all this stuff than you might think. What really helped me transform my food photography was starting to plan out my pictures before I started my photoshoot. This helped me think through the composition and the camera angles so I wasn't ad-libbing on the fly.
Planning your pictures on paper before you start doesn't mean shutting off your creativity or not going with the flow in the moment. It means understanding and using this information to help you be more creative EFFECTIVELY.
So before you go any further, download and print off your free photo composition kit and let's jump right in and take a look at the 3 Main Camera Angles for your food photography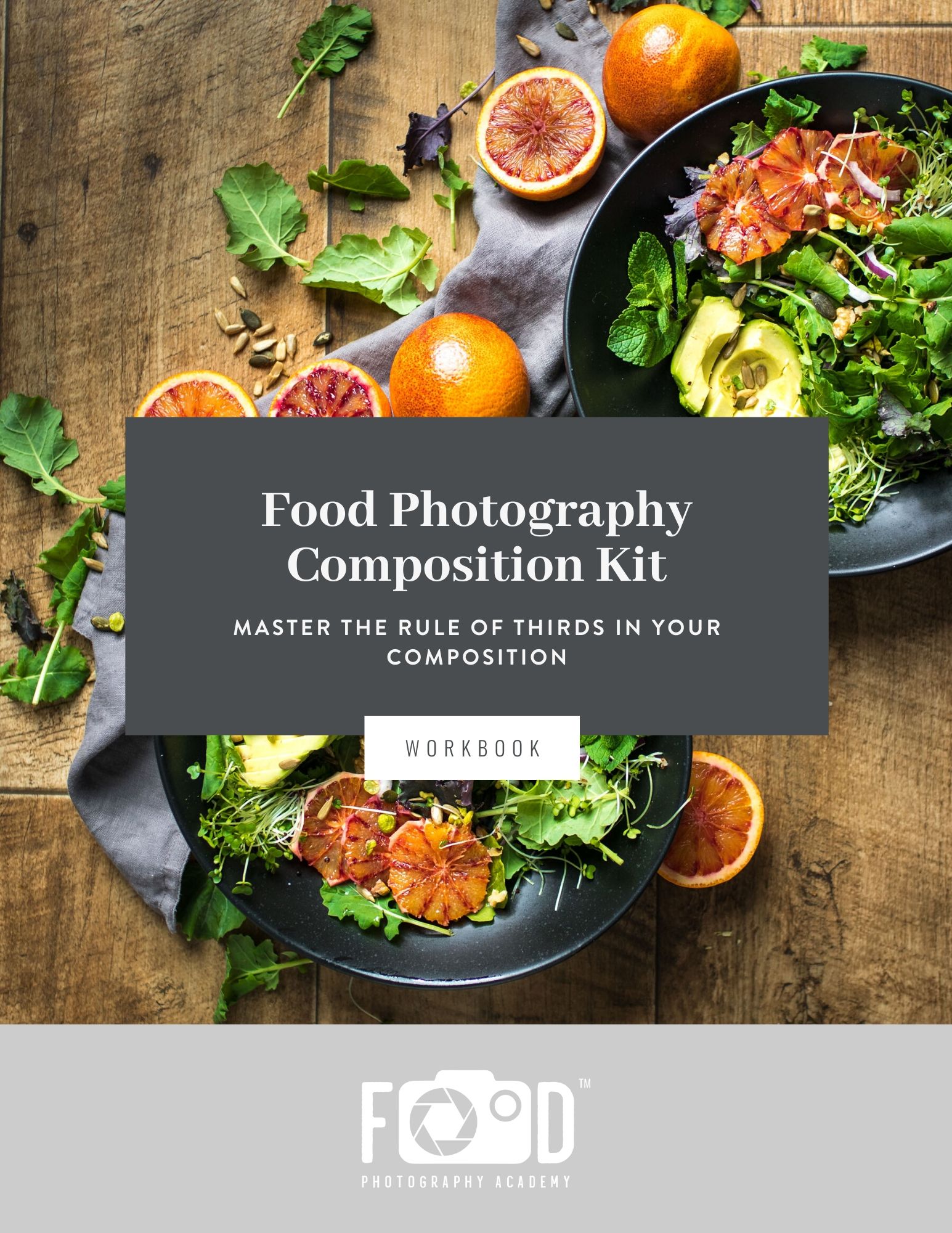 Learn my Food Photography Composition Secrets
Learn my Composition Secrets
The Straight on Angle
The straight-on angle is good for subjects like burgers, sandwiches, pancake stacks, etc, or any food where there's more detail on the side/inside than the top.
It's an angle that also allows you to utilise the background to add additional props and objects which can be useful to build out your food story.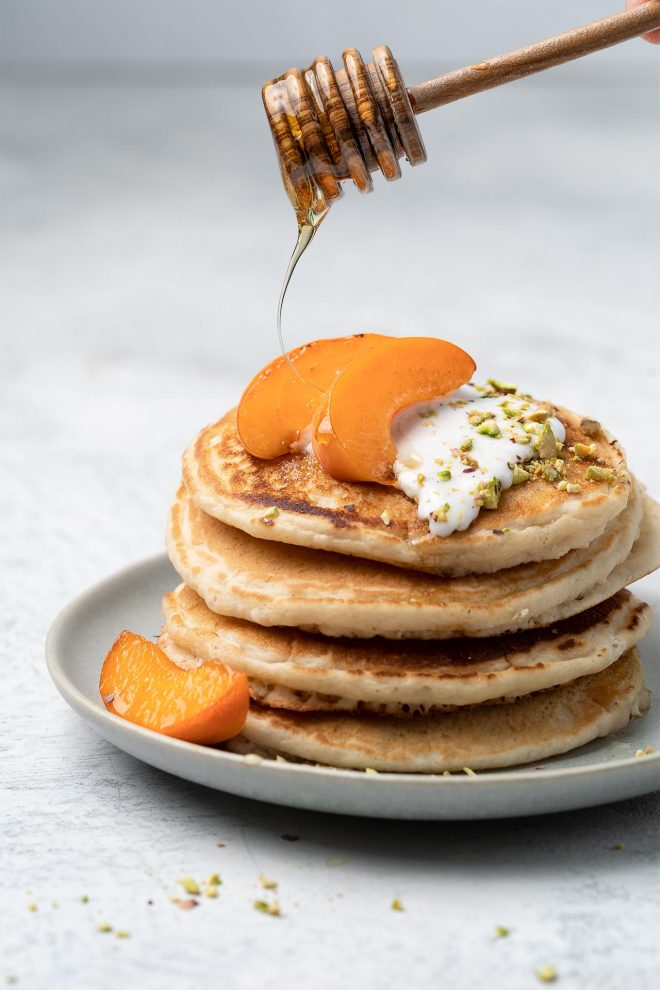 In this shot of the pancakes, I used a straight-on angle plus a long-focus lens to make the pancake stack look heroic and powerful, and avoid any distortion. I also wanted that honey swirl action to be the focal point of the image, and the straight-on angle worked best to highlight that.
Do remember that the focal length of the lens you're shooting with will have an impact on the general "look" of your photo. My favourite way to take straight-on shots is with a focal length of anything from 60mm upwards, but normally I use my 90mm macro lens. If you use too wide of an angled lens for these shots, you'll end up with some weirdly stretched lines because of your wider field of view. If you want to learn more about the best lenses for food photography, then check out this post I wrote all about lenses.
25°-75°
I like to think of the 25-75° range as a fluid angle. It's basically everything in between the straight-on and the flat lay which we'll come to in just a minute. It's hard to know at exactly what point your photo will look best in this range, as it depends on how much detail there is on top of your subject.
Typically, a good starting point is to shoot flatter subjects somewhere between 90° and 45° and taller subjects from straight on – 45°.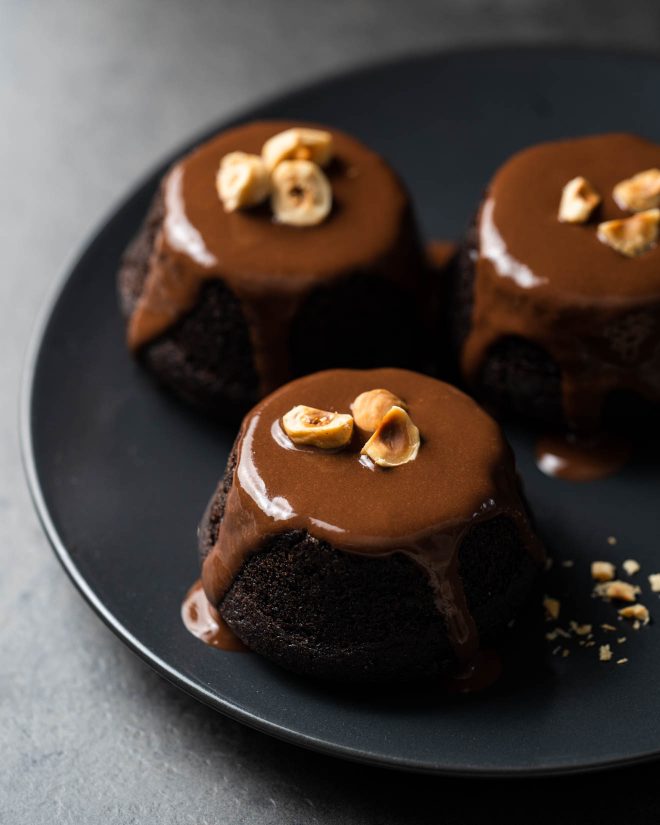 I shot these little chocolate cakes at about 45°, again with a long focal length lens. They aren't super tall, but most of the detail is going on on the top with the toasted hazelnuts, and that little drip down the sides, so a straight-on angle would have missed a lot of that detail. A flat lay would also miss the texture on the sides and potentially hide the overall shape of the cakes too.
By combining this 45° angle with some side/backlight, I was able to capture a really nice specular highlight on the ganache, and that motion of the drip, I mean who doesn't love a good ganache drip in a food photo?!
Let's take a look at another example here, this time with a 75° angle. This angle is just a little bit down from a flat lay, so you get a largely overhead view, but you do still get a little bit of side view too.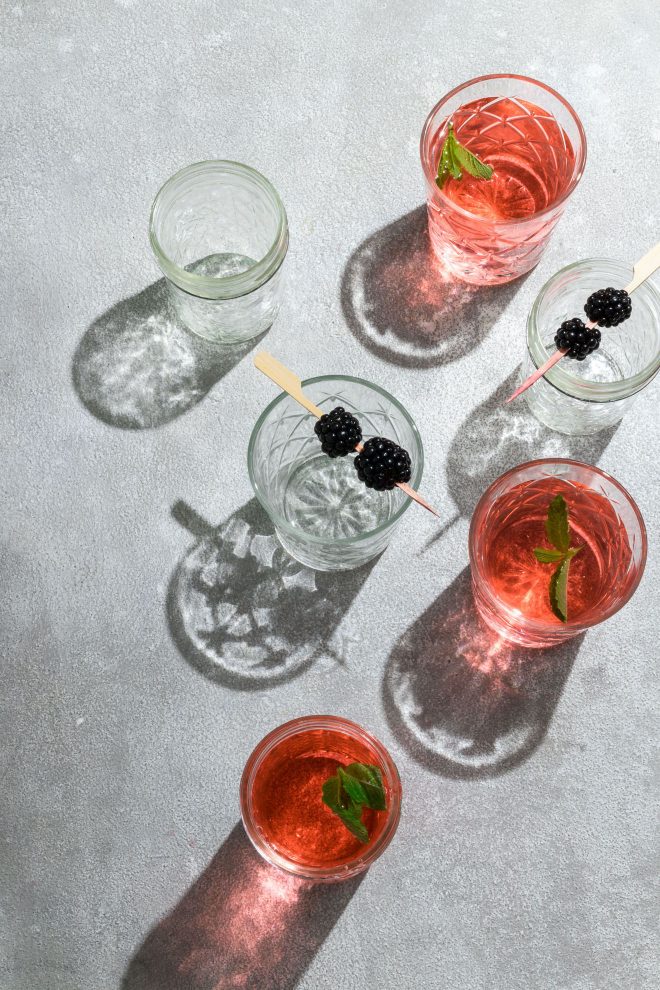 In the image of the drinks, the 75° angle allows you to mostly focus on the decoration on top, but still see the shape of the glass, rather than just floating circles. This angle is really effective for drinks where you still want some depth, but you don't have any layers or particular interest to highlight on the side of the glass.
The focal length of the lens you use is also flexible on this shot, depending on the look you're going for. For the drinks photo, I used a 35mm lens on a full-frame camera, which gives some perspective distortion making the picture look like it's bulging outwards a little. This isn't something you always want in a photo and doesn't work particularly well for straight-on shots, but for this kind of image, I think it works. As I've said before, all these things are subjective, and it's fun to play around to find the style you like.
The Flat Lay
The flat lay is probably the most flexible angle in food photography and definitely one of the most popular! Unless your food is "closed" when looking at it from above, like a sandwich, or a burger with the bun on, nearly everything can work with a top-down angle. You only need to scroll through Instagram for 5 seconds to realise that food photography is all about the flat lays!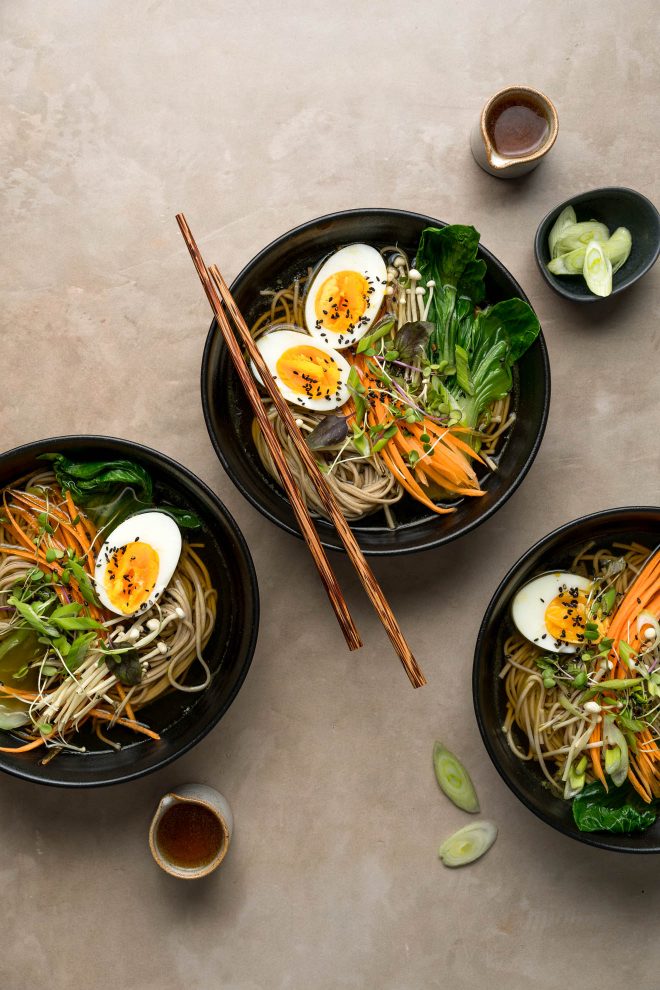 For me, it's one of the best "storytelling" angles (although you can of course tell your food story at any angle). It's perfect for dishes where ALL the detail is on top (like this noodle soup) or when you want to show a full table scene.
In terms of lens, again it depends on the look you're going for. A wider angle lens with a more narrow aperture (f/4 upwards) is best for creating these shots and can be useful for capturing wide scenes, but if you're going for a detail-orientated close up top-down, you might want to consider using your long focal length macro lens, and just hoisting it up really high on your tripod or C Stand.
Angles to Avoid
Ok, So now we've talked about which angles work great in food photography, let's take a quick look at which angles to avoid.
Anything Slanty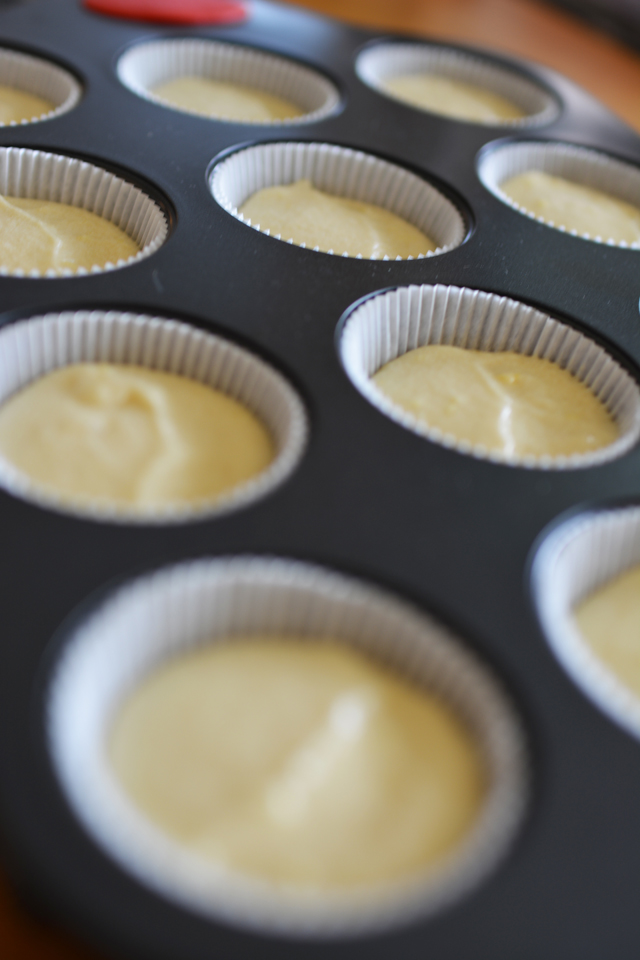 Keep your horizons straight. Those diagonal shots and Dutch angles might work well in selfies, but if your food looks like it's about to slide off the photo, your viewer will probably want to tilt their head to look at the photo properly… don't make them do that!
The too close up
Ok, so this isn't really a camera angle, but I think it fits in here quite nicely.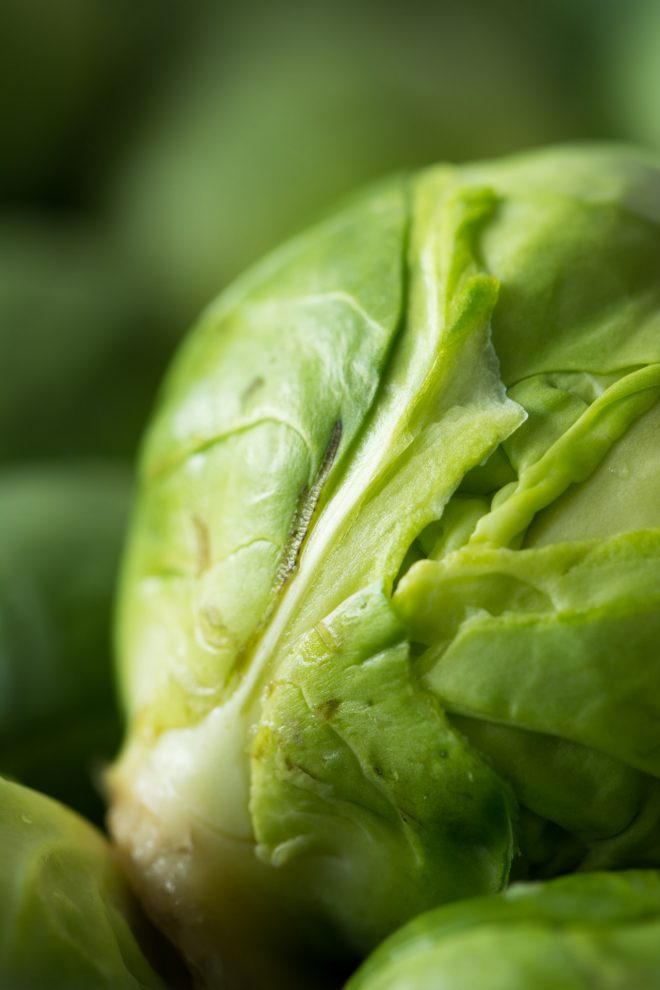 There's nothing wrong with a close up of your food, or even a nice macro shot of some berries, but if you're so close to your subject that the viewer will have to guess what it is, pull back a little bit
The Odd Looking Focal Length
Again, not strictly an angle in itself but more about how to use the right angles for the lens you're using. For more information on the best camera lenses for certain food photography camera angles, check out my other post all about lenses.
When you're planning your food photos and thinking about what angles you're going to use, you should ask yourself these questions
1) What am I shooting?
2) How am I styling it?
The answer to the first question will sometimes tell you the angles you should be using, as certain foods lend themselves much better to a particular angle better than others. The classic burger shot from straight on will allow you to see all the different layers inside your burger and a pizza will look great from top-down where you can really see all the toppings.

But what about foods that don't have an obvious "most flattering" angle? Well, this is where the answer to your second question becomes really important. Let's take something liquid as an example. The best angle will really depend on how you're styling the shot: if your food is in an opaque bowl, with lots of detail on top, then a top-down or 75° – 45° angle would probably work best, but if you're layering something like overnight oats or a smoothie in a tall glass, then a 45° – straight on angle would work better.

You guys know how much of a fan of a tripod I am, I could literally sing until the cows come home about the benefits of shooting food with a tripod, but it can be super useful to explore your subject freehand first to help you find the best angle. Sometimes it can surprise you what your favourite angle can end up being, so take a bit of extra time for this exploration first.

So that's it for today's video, I hope you got some useful tips about finding the best angle in your food photography. Don't forget to download my free composition kit, subscribe if you want to see more videos about food photography, and I'll see you in the next one.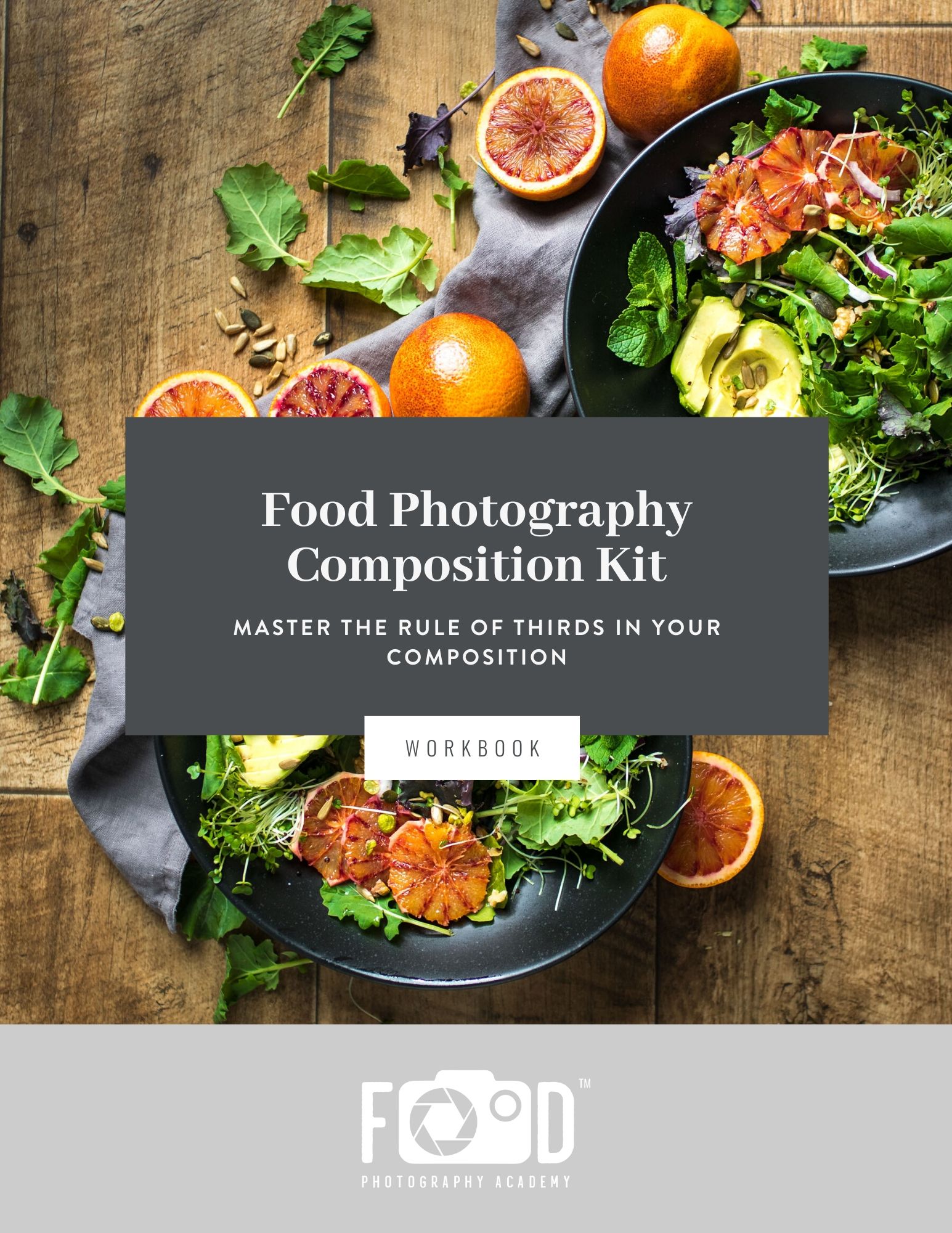 Learn my Food Photography Composition Secrets
Learn my Composition Secrets