When you think of great food photography, the immediate things that come to mind are great colour, creativity, beautiful lighting and ultimately, great images… but in today's post, we're going to take it back a step, and look and focus on the bedrock of it all – COMPOSITION!
Composition is the backbone of food photography. Nail your composition and everything else can be layered on top to elevate your food images.
In today's post, we're going to focus on what compositional techniques are and why they are so important.
What are Compositional Techniques?
Before we can think about more details about food styling, we're going to spend some time talking about a few compositional techniques and how you can use them in your food photography.
When we start talking about rules and techniques in photography, it's often the point that people shut off. It's easy to think that any rules and techniques take the fun out of creating photography, and might even hinder your creativity. In reality, it's the opposite.
It's important to remember that compositional techniques are guidelines, NOT rules.
They aren't here to hinder your creativity
Rules are there to be broken when the time is right, but it's always good to understand the rule you're breaking, to know if breaking it will actually improve your photo.
There are three compositional techniques that I come back to again and again in my food photography, and those are:
The golden ratio (The golden spiral and the "phi grid")
Symmetry
I've created a handy rule of thirds print out grid for you to help you plan your compositions more effectively. Download your free copy below!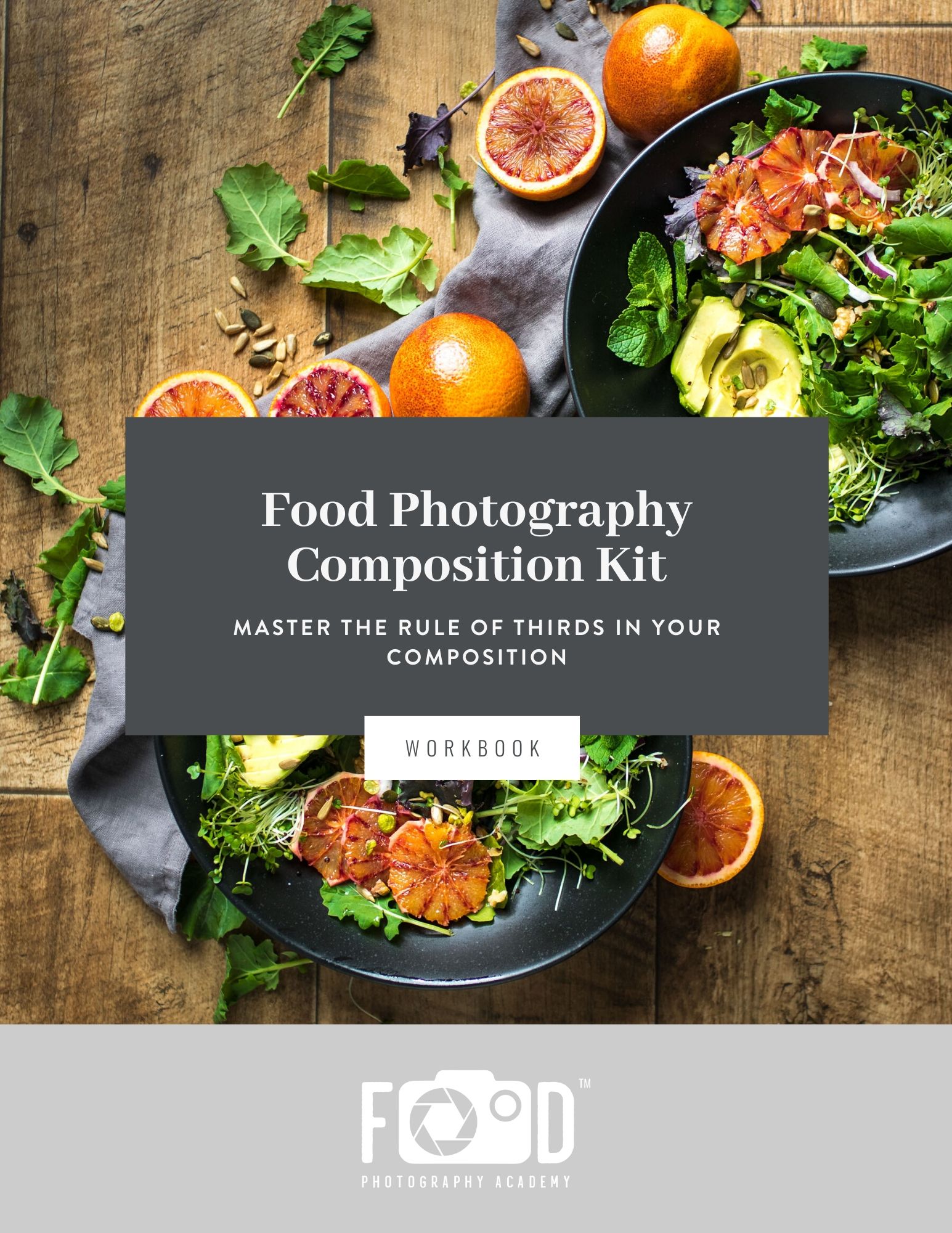 Learn my Food Photography Composition Secrets
Learn my Composition Secrets
The Purpose of Compositional Techniques
The purpose of composition techniques in food photography is to give you the tools you need to achieve the best possible photo. Food photography is an art form, just like any other kind of photography, and these principles will help you develop your style and build confidence in the images you produce.
Using techniques like the rule of thirds and other ratios for your composition also helps to create balance in your photos. Knowing how to balance your props, the food and negative space, will allow you to control where the viewer's eye is drawn to in your photo, and more effectively tell the story you're trying to tell.
Ultimately, compositional techniques can help us produce better, more cohesive images.
When compositional techniques are used well, you won't notice they're there. Instead, you'll have an intentional, powerful image that will stand out from the crowd.
So before we get swept up in the rules and techniques, I have a formula that I like to keep in mind when I'm planning out my photos. I call it the magic formula, even though there's no magic in sight. It goes like this:
Creativity + Logic = Balanced, well thought out photos
When you use these two things together, they are a powerful combination. Starting to implement these compositional techniques (aka the logic part) alongside your amazing creativity is going to open up a world of options and allow you to explore food photography on a whole new level.
I'm a firm believer in balancing the rules with creativity. In my own work, I like to keep things simple, rather than using a million and one complicated techniques. I have three or four core compositional techniques I come back to, then I let my creativity be the dominant force. You don't need to be a scientist to use this stuff.
I use the rules to guide me, not to dictate every photo I take. Understanding the foundation of compositional techniques is a powerful tool, and using them to help you develop your composition skills will turn you into a better food photographer.
You'll be able to create intention and focus in your photos, finding a balance between looking "staged" and understanding where your subject is going to be the most pleasing and powerful to the viewers eye.
You'll learn how to handle the different elements in your photo, bringing them together to tell a story whilst not drawing focus from your main subject.
All of these things put together will help you produce the best food images you can.
Want to know all my secrets about using these compositional techniques to nail your food photo composition?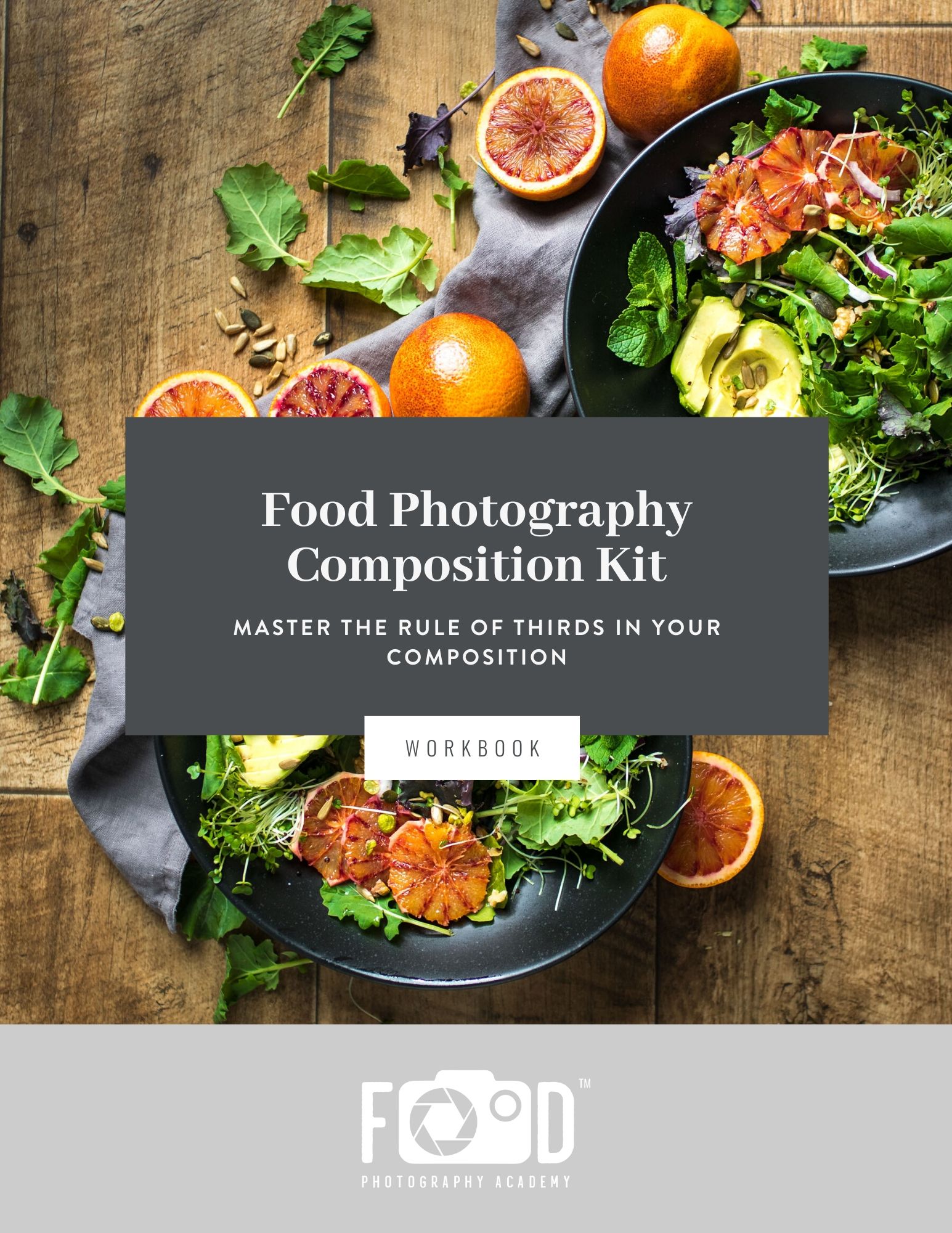 Learn my Food Photography Composition Secrets
Learn my Composition Secrets
And now comes the fun part… putting it into practise
Once you understand the main principles behind the compositional techniques you use, one of the best ways to start putting them into practise is to start sketching out your photos before you shoot.
When I started sketching out my compositions before I started my photoshoot, I noticed a dramatic improvement in my work. Suddenly I found myself thinking in a more intentional way about the elements in my photo, resulting in more powerful images that started to get my work noticed.
Sketching out your photos will help you understand your food photography style too. By actively broadening your horizons and trying out these techniques in a structured way, you'll explore areas of food photography you probably wouldn't otherwise, and somewhere along the way, you'll find your groove.
So how does sketching out your compositions work?
Well, you start with a print out of a grid in the format you're currently planning for. In this example, we're going to be working with the Phi (golden ratio) grid.
Next, start adding the key shapes to your grid, so you gradually build the core layout of your photo. I like to start with the props I plan to use, as they form the core shape I'm using in my photo. From there, it's much easier to decide where your food is coming into it, and how you can start adding the little embellishments that will make your photo POP.
You can add as little or as much detail as you like – the key here is to get your vision out on paper BEFORE you start your shoot. You'll save so much time in your shoot, and walk in with more intention and focus, rather than throwing things into your scene without much thought, hoping you end up with a good composition.
Let's take a look at an example of how I used a golden ratio grid in one of my compositions:
I've used the guides of the grid to place my main subject on the most powerful points, and used the rest of the ratio to help me place my supporting subjects in a visually pleasing place.
I also lined up my horizon with the phi grid line. A good tip is to avoid placing your "horizons" in the centre of your photo, and instead use the lines of the ratio you're working with instead. Overall this creates a more visually pleasing composition.
Being able to use several different compositional techniques confidently, will help keep your work fresh and exciting, so you won't be recreating the same, safe shots over and over again
Don't forget to grab your free composition kit by clicking the button below. It's going to save you so much time!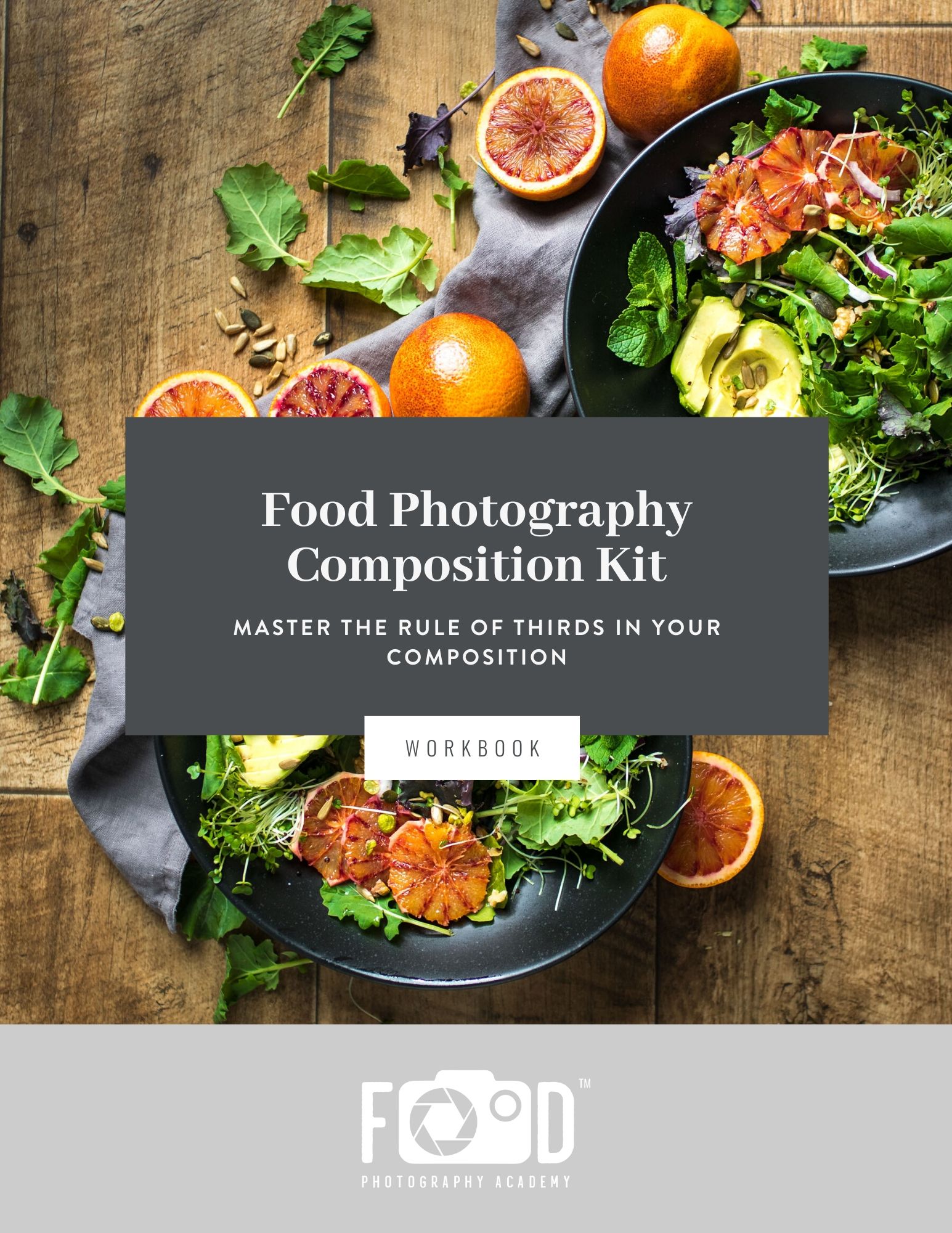 Learn my Food Photography Composition Secrets
Learn my Composition Secrets