When thinking about food photography composition and food styling, it's part creativity, part logic. I like that. It means you don't have to guess what makes a good food photo, there are some rules to help you.
You may have already heard of the rule of thirds, but you may not know exactly what it is, or how useful it can be in food photography.
As with all "rules" in art, the rule of thirds should be thought of more as a "guideline". Rules are there to be broken when the time is right, but it's always good to understand the rule you're breaking, to know if breaking it will actually improve your photo.
Today we're going to demystify the rule of thirds, learn exactly what it is and find out how it affects your food photography composition. I've also created a FREE food photography composition kit to help get you started!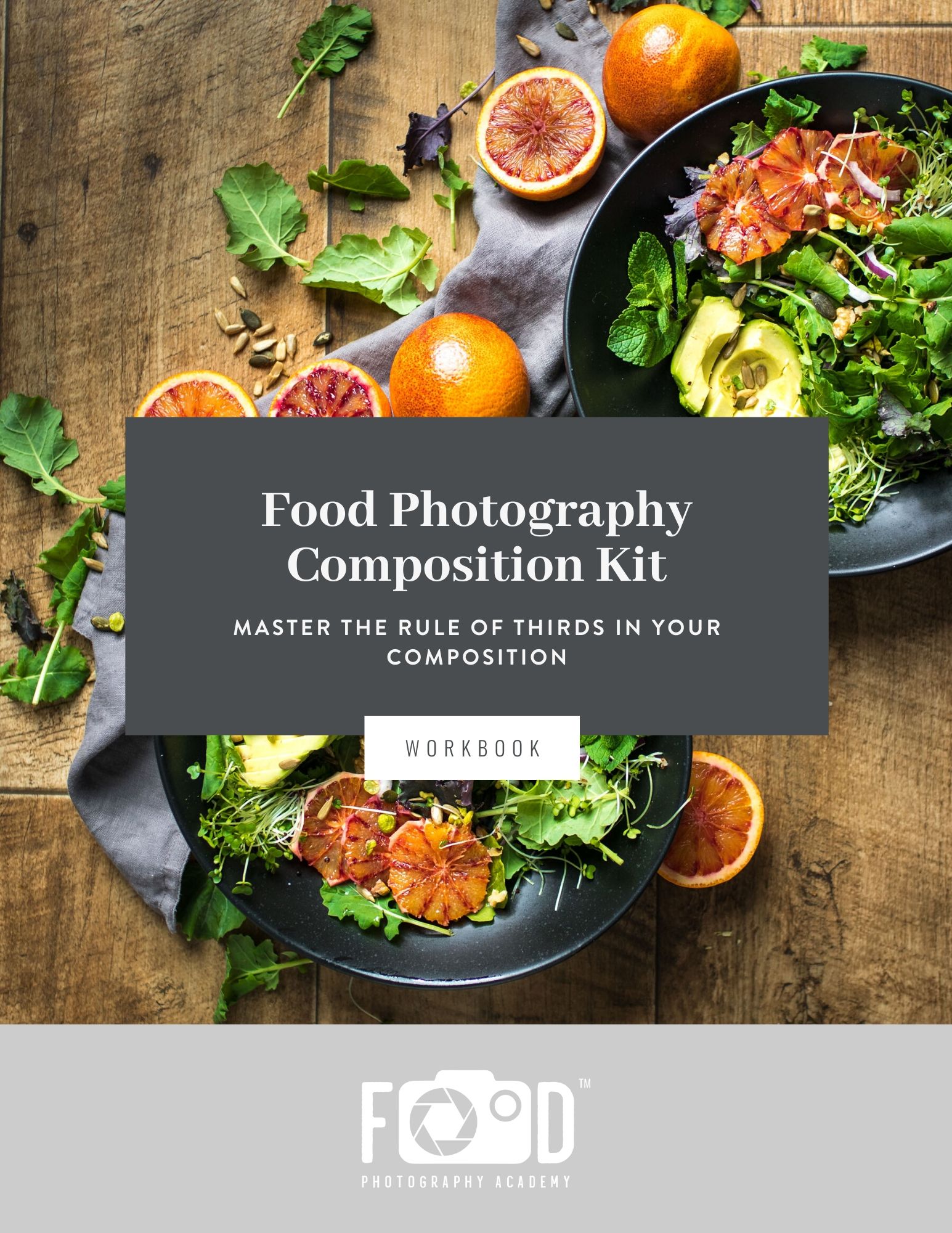 Learn my Food Photography Composition Secrets
Learn my Composition Secrets
The rule of thirds is a composition technique. It's designed to help create balance in your photos, and engage the viewer by drawing attention to the parts of the photo that their eyes naturally gravitate towards.
If you're wondering why it works… well, because science!
It can be used in all kinds of photography (not just food), so it's a great technique to learn, and one that you'll be able to apply to all your photography. Hello awesome holiday snaps 😉
The rule of thirds works by dividing your frame into 9 equal rectangles, using two vertical, and two horizontal lines that are equally spaced. Just like this:
The points at which the lines meet are the key points of interest, and you should try and place your subject on, or near one (or more) of these points. We'll look at a couple of examples later.
Placing your subject off-centre and following these lines is just more pleasing to the eye than a dead centre "mugshot" type photo.
How to Use the Rule of Thirds to Compose Great Food Photos
When planning out your food photos, there's a few questions that are useful to ask yourself
Once you've established these points, you can start to build your photo.
Sketching out your photo before you start
One of the things I always do before starting a food shoot is to sketch out a rough structure for my photos. Doing this before I start allows me to think about the composition of my food photo, and therefore results in much higher quality photos. The difference I noticed in my photography when I started doing this was huge!
To do this, for each photo you're planning you'll need a sketch of a rectangle in the same proportion as your photo (3:2 is the standard aspect ratio of DSLRs and Mirrorless cameras) with a rule of thirds grid in it.
Next, think about the questions above and decide which of the lines and points you will place your subject on. You can then use your other props and garnishes to "frame" your subject and create some shape in your photo.
Typically, in top down shots, you can choose any intersects you like, as you can frame your subject using your garnishes and other props.
In straight on and 45° angles, I find it's best to focus on either the top two, or the bottom two intersects together. This lets the rest of the photo act as foreground or background, complementing your subject, rather than distracting from it. But this isn't a hard and fast rule – just guidance 😉
I've created a free, printable food photography composition kit, that has all the grids pre-drawn, ready for you to scribble all over and plan your food photos. It's a game changer. Click the button below to get your totally free copy!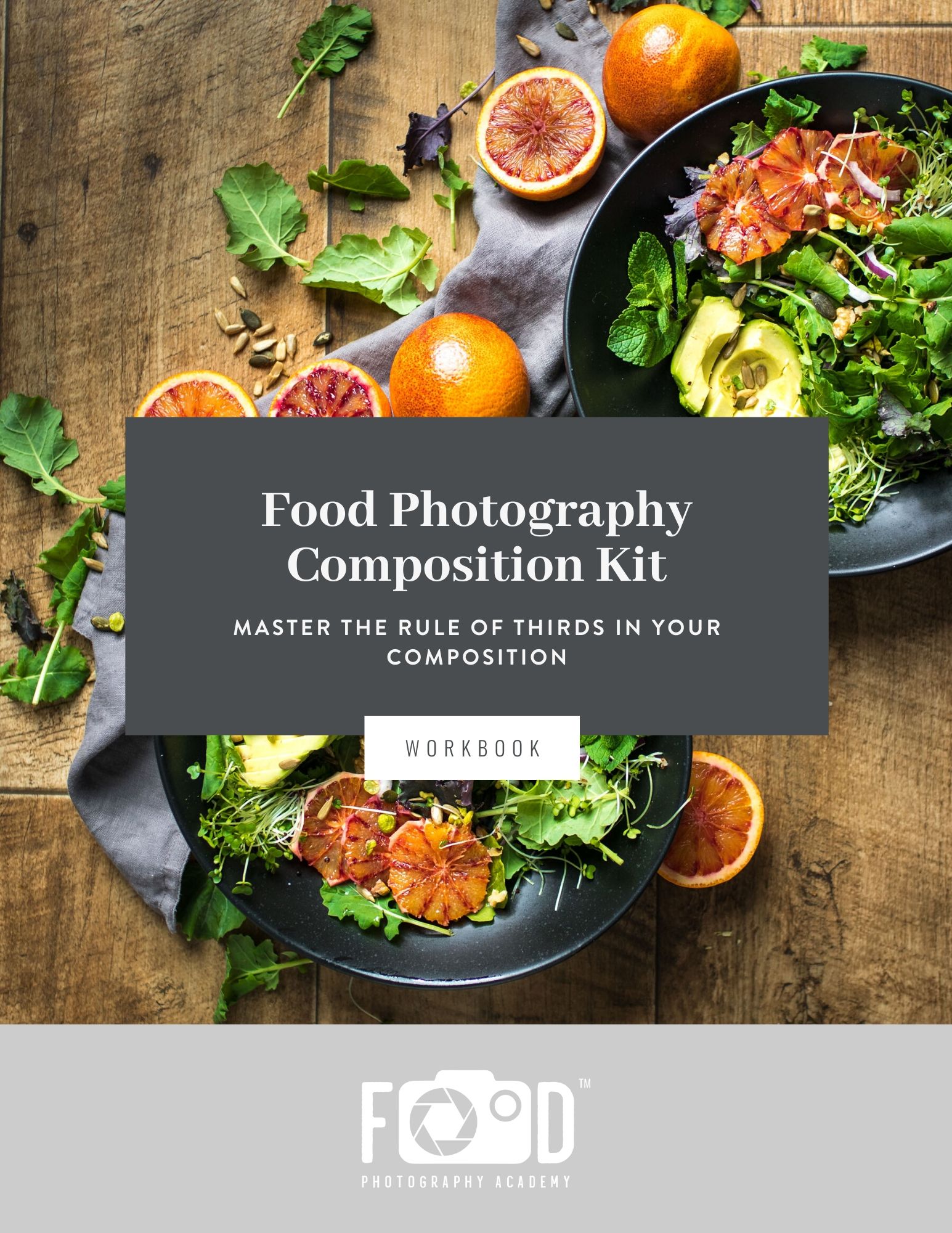 Learn my Food Photography Composition Secrets
Learn my Composition Secrets
Now let's take a look at some food photography examples.
Examples of different food photos using the rule of thirds
Top Down
As I mentioned briefly earlier, in a rule of thirds grid, the points at which the lines cross are where the eye is naturally drawn to first. So focus on placing your subject on, or near, one of these points.
In this photo, the main subjects are the bowls, particularly the bowl at the bottom of the photo.
In order to help the bowls stand out, I've placed them on the intersects of the lines on the bottom and top right of the photo. This immediately draws your eye straight to the bowls, and the negative space around them isn't distracting. The bowl on the right has been intentionally cropped, to give the bowl on the bottom the most importance in the frame.
I arranged the cut oranges and garnishes around the bowls with a cloth to lead your eye along the lines to the main subject, while also creating some additional interest.
Let's look at an alternative angle of the same photo, whilst still applying the rule of thirds.
45° Angle Shots
When you have a horizon in your photo (most obvious in landscape photography) the rule of thirds suggests that you line up the horizon either with, or near, one of the lines. When you cut a photo in half by putting the horizon right in the middle, it can give an unbalanced feel, like there's no real subject and background.
These kinds of 45° shots show how this principle is still relevant in food photography. Most setups involve using some kind of "base" which acts like a floor underneath your food, then a wall behind your subject, which creates a kind of horizon somewhere in your photo.
In this example, I lined up the "horizon" with the top line in the photo, then lined up the bowl again with the bottom two intersects, and the top right one.
I also adjusted the aperture to create a shallower depth of field, which makes the front bowl stand out the most.
Tips For Using the Rule of Thirds when Shooting and Editing your Food Photos
Most DSLR's have the option to overlay a 3×3 grid on your live view screen, which makes it easier at first to get the hang of where the lines and intersects are. Try turning it on for your next few shoots and see what a difference it makes!
If you don't have this feature, or your picture just doesn't quite have the composition you wanted, don't panic. There are ways you can "fix" your photo in post production editing.
Adobe Lightroom has a 3×3 grid option which is visible when you're using the crop feature. As you're resizing and repositioning your box, you can see exactly where on the grid your subjects will lie – simple!
So let's put all these tips into action and start using them to plan and shoot better food photos. Don't forget to download your free photo composition kit to get you started: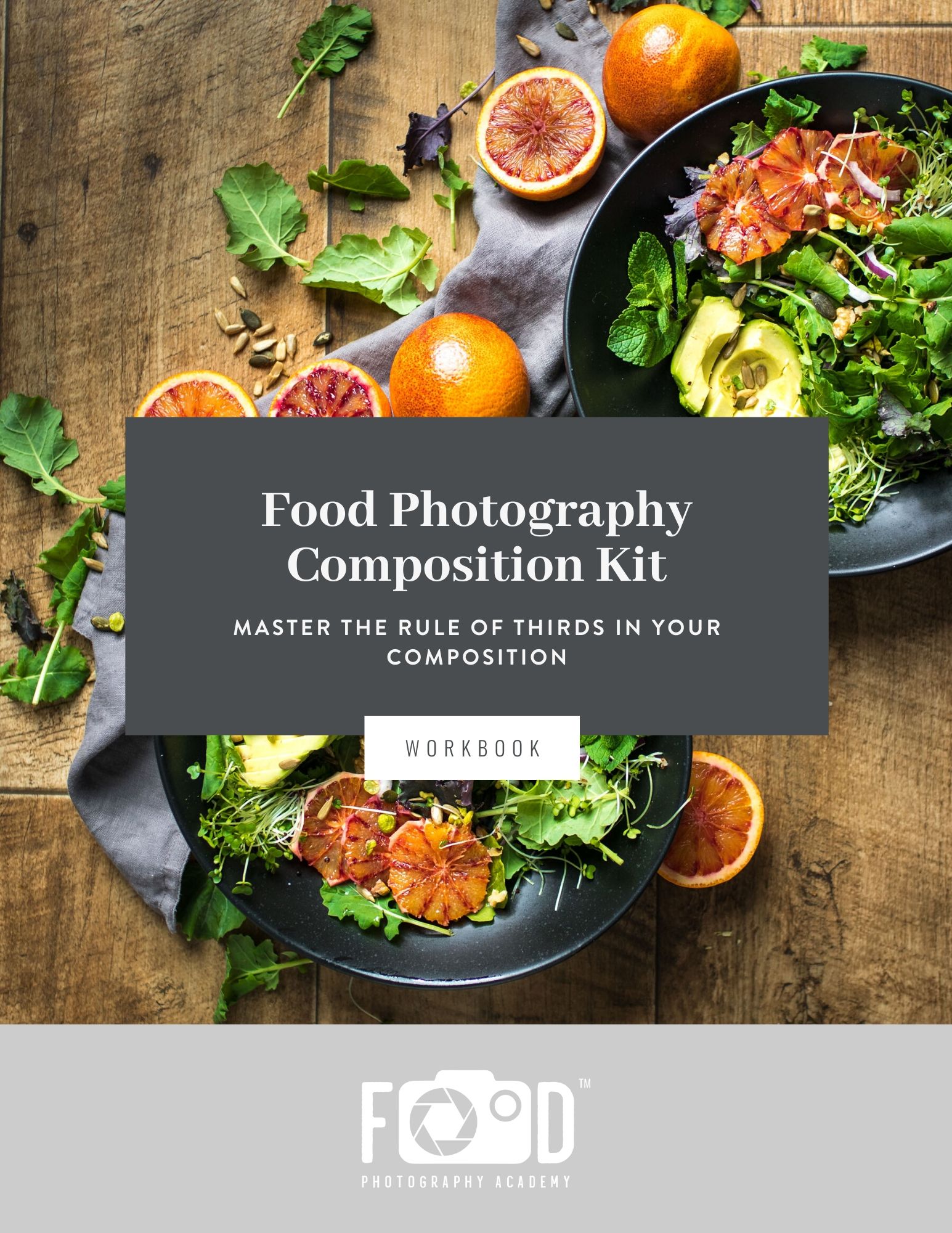 Learn my Food Photography Composition Secrets
Learn my Composition Secrets
Summary
The rule of thirds is a photography composition technique, designed to create balance and draw the viewer's eye to your subject.
The points at which the lines intersect are the most powerful points on your frame, so focus on getting your subjects on, or near, these points.
Turn on the 3×3 grid display on your camera if you have that feature available.
If not, use the grid feature in the cropping tool in Adobe Lightroom to help you get things lined up and cropped juuuuust right.
Sketch out your photos before you start (and nab your free food photography composition kit if you haven't already)
Remember that these are guidelines, not rules, so don't be afraid to break them when you feel it will improve your photo.
Your Turn
Do you already use the rule of thirds in your photography? Or did this post teach you ways that you can be using it better? Let me know in the comments!